FM-36X V2 800TVL (Mini Zoom Camera with Infrared sensitive CCD)
Product Information
Earn Reward Points: 206
Earn Discount: €3.71

FM-36X V2 800TVL
FM36X 800TVL is our brand new 36x zoom camera with 800TVL resolution
and NVP2431H Image Processor for small UAV and remote surveillance.

36X Quality optics, 1/3" CCD and NVP2431H Image Processor technology
making this camera are unique. The low light performance of the FM36X 800TVL
is excellent because of onboard motorized Day/Night filter shutter.
You can choose the night mode to remove the IR filter for NIR band video surveillance.

in ISP technology, 1080HD resolution image sensor and NVP2431H Image Processor
generates the highest resolution video as possible to transmit over analogue video transmitters.

The Noise reduction system eliminates the noises and gives perfect gradients and sharp edges.

The photo below, captured from FM10X video, press on the photo to see the real
captured image. The original image noise level and quality are 2 times better than this
captures. We can't show it because of limitations of capture devices that we have.




FFM36X800 camera rc controller




The product comes with new CAMCON v4 board.
The new inline design is more gimbal friendly than the older versions.
Zoom, Focus and Menu inputs compatible with standard 5v RC Servo ports.
(1 channel enough for zoom, 3 channel require for zoom, focus and menu functions)




What is the Sony EFFIO Technology?

EFFIO is the innovative DSP technology by Sony.
In this technology, the image sensor resolution is higher than analogue
video standards. (1024H) and DSP generates enhanced analogue video from
the original high definition source.

EFFIO DSP detects the movements, object edges, colours, light levels
and generates 800TVL sharp and useful video signal from the original high definition image.
For example, moving objects looks sharper than conventional cameras,
object surfaces look better and noiseless.



Please visit Sony Effio page for the details:
http://www.sony.net/Products/SC-HP/effiowld/technology/index.html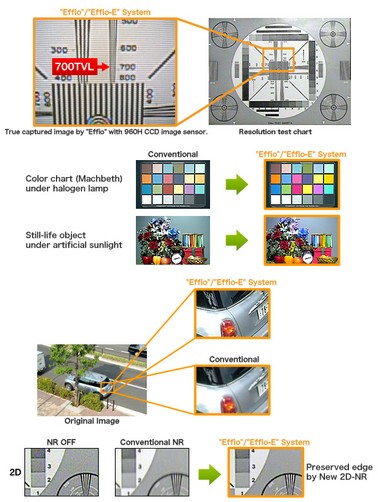 The package includes:

FM36X700 Mini Zoom Camera
Flat camera cable
RC Camera Control Card v2.0 (including zoom,
focus and menu functions over servo channels)


Notice: Old version of RC Camera Control Cards only including zoom control
and the camera came with Menu control & extension card to access menu options.
This is not required on FM36X 800TVL cameras.

CAMERA CONNECTION




Features of FM36X700:

1/3" 1080H SuperHAD CCDII Image Sensor
Nextchip NVP2431H Image Processor
800 TV Lines Video Resolution
Motorized Day/Night IR filter (Automatic or manual selectable)
2D Noise Reduction
Color: 0.1Lux, B/W: 0.01Lux
High-Speed Focus function over ISP
1/50~1/10000 s Shutter Speed
-20 to +70 Celcius Working Temperature
Menu Functions: AWB, Backlight Compensation, Mirror, PAL/NTSC selection, IR Filter controls etc.
Video Format: PAL/NTSC
Weight: 70gr naked. / 130gr with the metal shield.
Dimensions: 86x42x45mm (naked) 86x50x47mm(with shield)
Optical Zoom Factor: 36x (3.43mm - 123mm)
Focus/Iris: AUTO / MANUAL / K AUTO
Backlight Compensation
Digital Control Protocol: VISCA
RC servo channel control: Zoom control with autofocus
Super Infrared (720-950nm) sensitivity for IR Filters
Supply Voltage is 12volt, also works with 3S LiPO (11.1V)
190mA power consumption

Important Notice: FM36X is not a standard FPV camera,
We are producing them for UAV designers by request.

 
Customer Reviews