RCL5300 Navigation w/ Strobe [5MM, 14
Product Information
Earn Reward Points: 16
Earn Discount: €0.29


RCL5300 Navigation w/ Strobe [5MM, 14"]

Use RCL5300 to install red, green directional navigation lights; and 1 white tail strobe light to
any 48" span R/C airplane, helicopter, or boat. Use wire extensions for larger scale craft.
Powered directly from the RX or optional battery source
To change LED sizes or colors use 5mm or 3mm LEDs.

Everything needed for a complete installation is included with every lighting system!




- BRIGHTEST LEDs INDUSTRY WIDE
- SIMPLE & EASY INSTALLATION
- POWERS DIRECTLY FROM THE RX
- ALL MOUNTING HARDWARE INCLUDED
- FAST BODY REMOVAL
- LIFETIME WARRANTY ON EVERY LED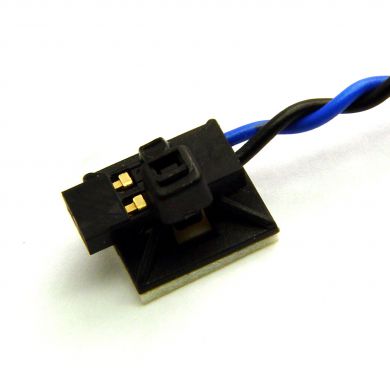 Includes:

Replacement nr:
Instructionset                                 -                                                             
                      (1) RX Direct2LED™                       #5075            LED CONTROLLER & POWER SOURCE
 (3) 24" wire extensions                   #5390-24       WIRE LENGTHS                       
 (1) 5mm red constant LED            #5290-R         LED SIZES & COLORS           
 (1) 5mm green constant LED        #5290-G        LED SIZES & COLORS           
 (1) 5mm white strobe LED             #5291-W       LED SIZES & COLORS           
 (3) standard 5mm LED holders    #5082             INSTALLATION HARDWARE 
(1) 3.75"x3" aluminum tape           #5080             INSTALLATION HARDWARE
       (4) zip ties & bases                          #5080             INSTALLATION HARDWARE       

 


Specifications:

    SYSTEM CURRENT DRAW (@6V): 50mA
(A standard servo draws approx. 350mA)

RX Direct2LED™
INPUT VOLTAGE: 3.6-7.4V [6V Optimal]
TYP OUTPUT CURRENT (per LED channel): 20-30mA

Blue, Green, White, White Strobe, Red Strobe LEDs
FORWARD VOLTAGE: 3.2V
MAX CURRENT: 30mA

Amber, Red LEDs
FORWARD VOLTAGE: 1.9V
MAX CURRENT: 30mA


All system components are guaranteed against manufacturer defect for 2 TWO Years after the
original date of purchase except the LEDS.  Warranty does not cover damage due to powering the
LED beyond specified ratings. Warranty does not cover damage due to an incorrect installation.
Warranty does not cover normal wear, abuse, neglect, or any damage arising as a result of
improper use or modification

 
Customer Reviews