JETI DS-14
Product Information
Earn Reward Points: 652
Earn Discount: €6.52

JETI DS-14

(FREE SHIPPING!)





This revolutionary, digital, 14 Channel, 2.4GHz, frequency hopping radio system
is based on very successful DS-16. The complete line of radio systems has
been designed and manufactured by Jeti Model in the Czech Republic.
The DS-14 is one of the most advanced radio systems on today's market.
With solid CNC aluminum case, large LCD display with a fully integrated antennas,
a mini USB port, built-in speaker, headset jack, plastic transmitter gimbals with
Hall sensors (4096 step resolution) and 9 ball bearings for precision movement,
a large 320×240 backlight display and many other features of the Jeti DS-14
is sure to become the new standard for transmitter performance.





HARDWARE
- Clear, timeless form
- 4 transmit antennas and two integrated RF modules for optimal and maximum range
- Transmitter aluminum main frame
- Precise ball-bearing sticks with contactless scanning (Hall sensors)
- Adjustable stick length
- 3.8 "Display
- 4GB internal memory (Micro SD card)
- Ilmost infinite memory model
- Li-Ion battery with 3200mAh and internal charger
- 10-12 hours of operation
- Headphone jack and speakers
- Mini USB connection
SOFTWARE
- Up to 14 proportional channels (8channel included)
- Super fast reactions and minimum latency
- All settings can be displayed on the large LCD display Clearly
- Upgrade options for other functions (see diagram) by special Jeti Online Store
- FW updates via USB
TELEMETRY
- Full duplex EX and EX bus telemetry
- Display and storage of telemetry data in real time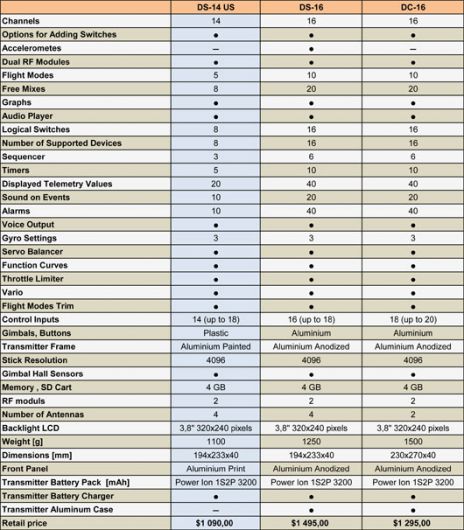 Choose the right stick mode before ordering !
leave it as a note on checkout!




in stickmode 5, sticks are self neutralizing


DELIVERY TIME +/- 1 WEEK



Customer Reviews